Age Is More than a Number!
Your Age Digit (not your age, your age digit) affects the things that come into your life this year! See how to figure out your Age Digit and what this energy means for you now: About Age Digits +
The Numerology Meaning of the Number 8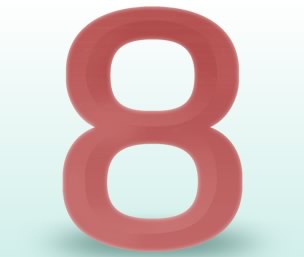 Balance and power
by Hans Decoz
Positive Characteristics: 8s are authoritative, business-minded leaders. They value control and tend to be powerful, but are also balanced, materially detached, successful and realistic. They end up in management positions, are efficient, capable, street-smart and good judges of character.
Negative Characteristics: The dark side of the 8 can be cruel, insensitive, violent, bullish or greedy. At their worst, 8s can become intolerant religious zealots.

Associated in Astrology with: Leo

Associated in Tarot with: Strength
Get to know the number 8 in depth with the complete Numerology of the number 8.