What's Your Karmic Debt?
Certain numbers tell you exactly which lessons you need to learn in this lifetime ... find out which numbers they are and what their message holds here: The Karmic Debt Numbers +
The Numerology Meaning of the Number 4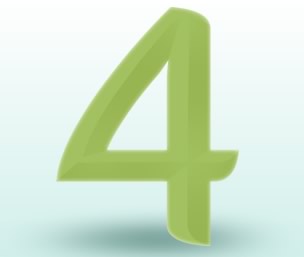 The salt of the earth
Positive Characteristics: 4s are disciplined, strong, stable, pragmatic, down-to-earth, reliable, dependable, hard-working, extracting, precise, methodical, conscientious, frugal, devoted, patriotic and trustworthy!
Negative Characteristics: 4s pay for their stability and pragmatism by tending toward the boring side. This may express itself with a lack of imagination, emotions, empathy. 4s may not bother to put much care into their appearance, and their social awkwardness can make them seem vulgar, crude or jealous.

Associated in Astrology with: Aries

Associated in Tarot with: The Emperor
Get to know the number 4 in depth with the complete Numerology of the number 4.