What's Your Karmic Debt?
Certain numbers tell you exactly which lessons you need to learn in this lifetime ... find out which numbers they are and what their message holds here: The Karmic Debt Numbers +
Decode Your Sun Number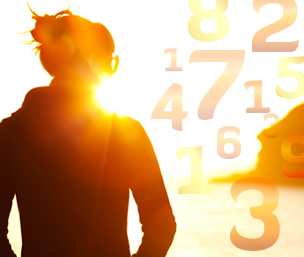 Just like your astrological Sun sign, you have a numerological Sun Number! Your Sun Number is a single-digit number derived from your month and date of birth that ties you directly into all the yearly, monthly and daily cycles.
Your Sun Number is easy to calculate and never changes. Simply add your month and day of birth, and reduce to a single digit (reduce Master numbers to a single digit as well).
For example, if you were born May 15, add 5 (for May) and 15, is 20, which reduces to 2 (2 + 0). If you were born November 23, add 11 (for November) and 23, is 34. Reduce 34 by adding 3 and 4 to find the Sun Number 7.
Keep in mind that, as with all numbers found in your Numerology chart, the influence is limited to the area that they affect. The Sun Number tends to dominate only your attitude toward changes, especially when they are unexpected.
Read about your Sun Number: